Hana Sekine
Centenary 29th July 1920 - 2020
ONE HUNDRED Today – 29 July 2020 - Hana Sekine, daughter of Mr Gunji Koizumi.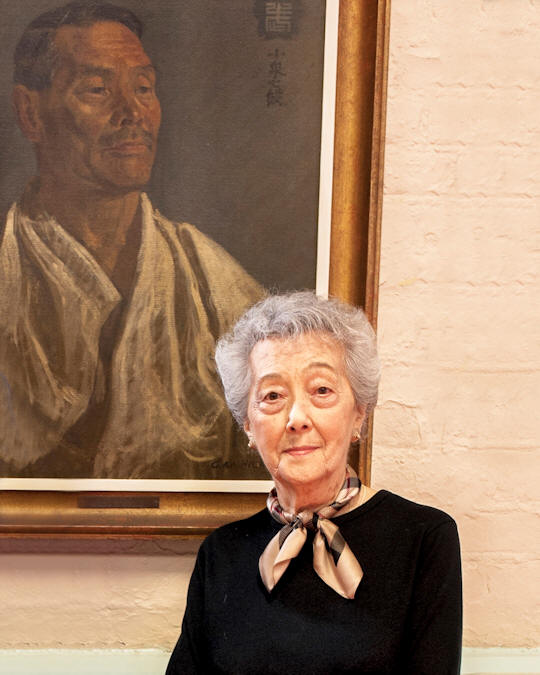 Hana next to the painting of her father Gunji Koizumi at the Budokwai 2014
Hana was born in London living her younger life in Ebury Street and Eccleston Street, at the age of six she moved to Kemptown, Brighton for about five years and on her return to London she finished her education at the Greycoat School.
When the second world war broke out Hana became a nurse at a hospital in Mill Hill, and with her mother was also running a small café – for 2/6d (15p or 0.17 euros) they served a splendid three course lunch, and as written at the top of their menus – 'Meals served in the air-raid shelter if necessary'!
On 7 June 1947 at Caxton Hall Hana married Percy Sekine. Hana had known Percy since she was a young girl, their fathers were already friends as the Japanese community in London, at that time, was quite small. Two years after their marriage Douglas their only child arrived. In 1954 Percy and Hana opened the Judokan club at Hammersmith, London. Hana worked tirelessly for the next fifty years. She was club secretary, behind the bar almost every night and of course head nurse to all the judokas! She must have bandaged hundreds of bleeding fingers and toes during her time! The Judokan became internationally known, with many famous Japanese judoka as Matsushita, Yamashita, Watanabe and Nakanishi visiting from time to time. The club membership also boasted many famous names from all walks of life and Hana and Percy were great friends with them all.
Regrettably the Judokan closed in 2004 and Percy sadly died in 2010.
Nothing daunted Hana, she could be found holidaying in Italy in her early nineties and in 2012 was even photographed on a Harley Davidson in Sorrento!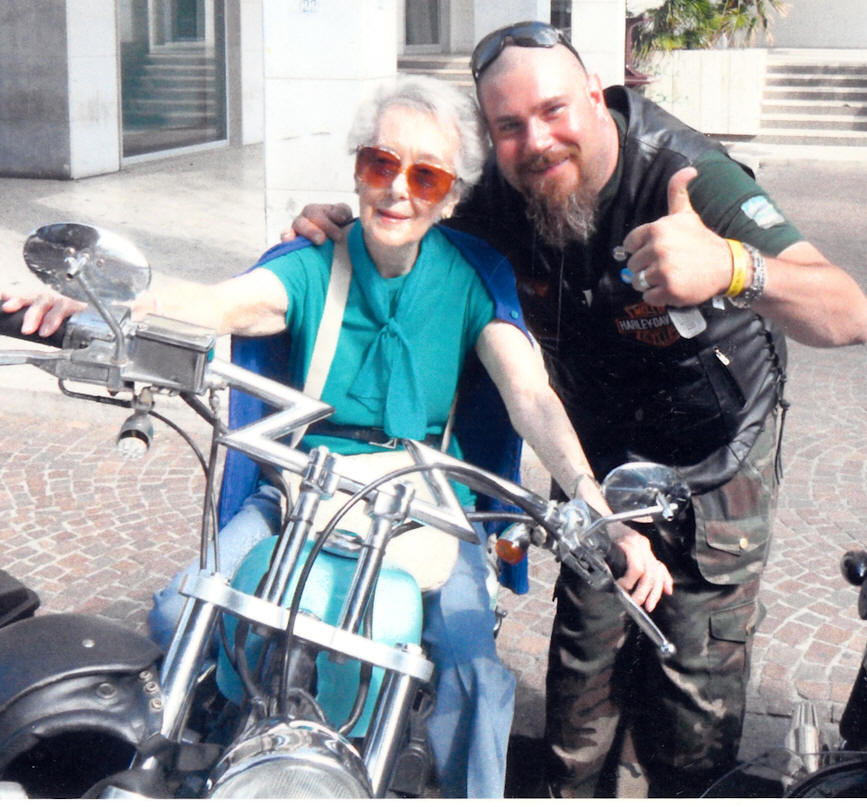 Hana attended the Budokwai Centenary dinner in February 2018, was delighted to meet old friends and was kept busy autographing the newly published Budokwai Centenary book. She also attended the Budokwai dinner in February 2020
Hana now is taking things a little easier, but she keeps jolly, is always ready for a laugh, never complains and is as kind and generous as ever. She is still in touch with many friends from around the world and her Wednesday tea parties (until the pandemic arrived) were a regular get together for old Judokanians.
We all wish Hana a Very Happy 100th Birthday.
Many thanks to Bill Musgrove who put together this article.
a